On the 15th of March 2022 the European Union ramped up its sanctions against Russia because of its military invasion of the Ukraine. The EU – The War MUST Go On!!!!
On the 24th of February 2022 the European Council concluded that:
The use of force and coercion to change borders has no place in the 21st century. Tensions and conflict should be resolved exclusively through dialogue and diplomacy.
On the 10th of March 2022 European Leaders stated that:
Ukraine belongs to our European family.
So, the European Union made their stance on the Ukraine very clear, four packages of sanctions against Russia, demands that Russia immediately cease its military actions, unconditionally withdraw all of its forces and respect the Ukraine's territorial integrity, sovereignty and independence.
You can find that information HERE
So, what if we told you the European Unions supposed "tough stance" on Russia was nothing more than a media soundbite, or perhaps at best, a pretentious political platitude, one that gives the illusion the EU is absolutely against the invasion and the inevitable death, misery, desperation and destruction it will bring.
Tough words and supposed tough actions taken against that Russian despot Vladimir Putin by an enraged European Union because Russia attacked its family. Or so one may think anyway. The truth however paints a very different yet disturbing picture for those who are willing to scratch the surface of said pretentious political platitudes.
The EU narrative is clear, Ukraine is a part of our European club, war is bad, stop murdering and displacing people Putin you tyrant, you murderer, you land thief!!! Russia must be sanctioned and its means to produce weapons of war.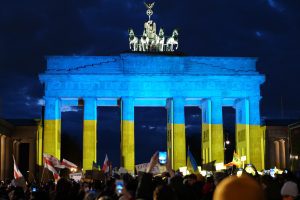 Pretentious Politics
While EU sanctions will clearly have an effect on Russia, targeting its energy sector, its military industry, steel manufacturing, luxury goods and many of its oligarchs, there are always carve outs, exceptions to the rule as it were, so if we told you that there are certain Russian companies that will continue to deal with European businesses, would you be surprised?
Would you be surprised if we told you that some of these carve outs, or exceptions to the rule, are actually allowing European businesses to deal with "military profile" Russian companies despite the war or the special military operation (depending on what side one takes) going on in Ukraine right now?
What is surprising is that a small part of Russia's military-industrial space and defence complex has not been placed on the EU's fourth restricted list (avoiding sanctions). Among the lucky representatives are major space companies such as NPO Lavochkin (headed by Vladimir Kolmykov), Roscosmos (headed by Dmitry Rogozin) and the concern Information Satellite Systems Reshetnev (headed by Nikolay Testoedov).
Also, on the whitelist of unsanctioned companies remains ZiD Degtyaryov Plant, a major manufacturer of anti-aircraft and anti-tank missiles (led by Alexander Tmenov and founded by the non-state company Globalvoentrading LTD – literally:  Global Weaponry Trading, headed by Igor Kesaev).
Also avoiding sanctions are Concern Radio-Electronic Technologies (headed by Nikolai Kolesov) and Izhevsk Mechanical Plant (headed by Nikolai Markov). Both belong to a huge armaments conglomerate called Rostec, headed by Sergey Chemezov.
So, it would seem that any "non-state" Russian defence businesses completely escape any of the European Unions sanctions. So, should we be asking why they have avoided these sanctions given they are in the business of arming and killing people?
Who benefits from these carve outs and exceptions to the rule?
The European Union appears to be living up to its reputation of pretentious political platitudes, maybe its good business to do so?
Either way, not sanctioning private Russian defence businesses screams hypocrisy. One would think the European Union are not in any way serious about avoiding conflict, war, death and the suffering of Ukrainian people when it still allows for the manufacture, sale and distribution of weapons from Russia.