Tommy and Urban Scoop rely on your financial support so that we can tackle these Muslim child raping and drug dealing gangsters in Telford. We have to provide security, pay for hotels, pay for fuel etc etc. However, Censorious Corporate Communism Strikes AGAIN!!!
One way we can get a message for support out there is by sending out mass emails to all you great people who have subscribed to us, because we cannot rely only on social media to get that message out there, or to keep you updated on current events.
The urgency to get that information out right now has never been greater following direct threats made to Tommy, his ex-wife, his children and even his elderly parents. Threats to RAPE and MURDER them.
WATCH THE VIDEO BELOW!!!! And if you can, subscribe to us by clicking HERE
We have also lost two important members of the team due to threats made by child raping and pimping gangsters from Telford. Make no mistake things have escalated, but Tommy and Team Urban Scoop are STILL going after them all.
As we were saying earlier, there is no greater time to galvanise that support and encourage as many people as possible to make a monthly subscription on the Urban Scoop webpage, even if it's just five pounds a month from everyone who receives an email, that would put us in a much better position financially than where we are right now.
Today, Tommy Robinson and us here at Urban Scoop were notified by Mailchimp, our mass email provider, that we could no longer use their services, only a day after us releasing a video with Tommy detailing all the threats and who made them.
A very timely surprise that has inevitably hit us financially. Below you will see what Mailchimps reasons were for terminating their services.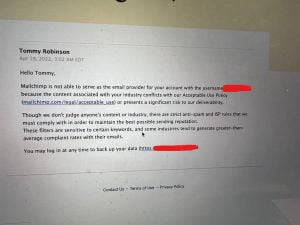 THE CONTENT OF OUR INDUSTRY CONFLICTS WITH THEIR ACCEPTABLE USE POLICY!!!
But remember….
THEY DON'T JUDGE ANYONES CONTENT OR INDUSTRY!!!
So, what we are going to do now is show you exactly what email we were going to send using the Mailchimp email provider, so you can judge for yourselves. Here is the complete layout and the text of the email as it appears on their system:
A DIRECT CALL FOR HELP TO EXPOSE AND BRING DOWN A CHILD RAPE GANG IN TELFORD!!!!
WATCH THE VIDEO CLICK HERE
So yesterday I published a video of Muslims in Telford threatening to drug and RAPE my children. They have been scoping my mum and dad's house taking pictures, they have even gone to the home of an innocent woman and her 12 year old child to find me.
Why?
Because a far left group ironically named Hope Not Hate has led them there, that's why.
My ex wife and my children are in real danger, my mum and dad are in real danger, an innocent woman and her 12 year old daughter who fled a serious domestic abuse situation are in real danger, not just because of the work I am doing investigating child raping paedophiles in Telford, but because a far left organisation has led these child raping, drug dealing criminals to their doors.
The fact is we cannot carry on with our work unless we mange to put ourselves into a better monthly financial position, so we can pay for extra security, pay for the relocation of rape victims, pay for a sound system, a stage and a screen, and pay for fuel and hotel costs as we literally chase these child raping wronguns in the town they have terrorised for decades.
Urban Scoop cannot do this without your help, we can barely afford to cover expenses yet alone pay for security cameras and relocate victims. Going forward we want to provide survivors of child rape with counselling they never had, the sort of counselling which doesn't focus on them reliving their trauma, the sort of counselling that can give them a fresh perspective and a new start in life, building their confidence and incentivising them to make the very best of their lives even though they have literally been tortured and damaged in ways that make me sick to my stomach thinking about it.
But we are not in a position to do that. We are nowhere near where we need to be financially to get this done. That's just a fact!!!
The situation in Telford has escalated, these drug dealing, child pimping, Muslim rapists will stop at nothing to get rid of me and our team, they don't want to be exposed. They don't want someone shining a light on their criminality or child sexual exploitation.
They have never had to deal with people like me and people in the Urban Scoop team. Because they cant intimidate me they go for my family, my young children, my ex wife and other innocent people caught up in the crosshairs in all of this.
PLEASE SUPPORT OUR WORK AND SET UP A MONTHLY SUBSCIPTION SO I CAN TAKE THE FIGHT TO THEM AND EXPOSE THEM TO THE WORLD. GIVE ME THE TOOLS THE TREASURE AND THE TIME TO SHINE A LIGHT ON THEM!!!
DONT LET THEM WIN, WE NEED YOUR HELP AND SUPPORT!!!
TO SUBSCRIBE AND MAKE A DIFFERENCE CLICK HERE
Follow Tommy on GETTR here – https://gettr.com/user/tommyrobinson1
DOWNLOAD GETTR on the App Store here – https://apps.apple.com/app/id1571619156
DOWNLOAD GETTR on Google Play here – https://play.google.com/store/apps/details?id=com.gettr.gettr
To conlcude….
So now you know what it was that we and Tommy wanted to email to you, but now we cant – for now. It seems as though we are another victim of woke corporate cowardice, we are victims of daring to investigate and tell the truth, to go places where other journalists would never dare, because they don't want to risk their lives to bring you that truth.
Censorious Corporate Communism Strikes AGAIN!!!
However, we will dust ourselves off, regroup, and get back to work doing what we need to do, because nobody else will do the work we do. And with your help, censorious policies of Big Tech will never prevail, as long as our great supporters keep sharing our content far and wide.